GoldenEye: Source 5.0 Media Day 5
5.0 Release
Without further ado, here it is!
GoldenEye: Source 5.0
More download links are available on the client downloads page!
While you download we figured it would be a good time to inform you of some important details:
GES 5.0 is a FULL installer only.
If you have any custom maps or files, you NEED to back them up before installing! The installer will remove them upon installation!
For those of you into the minutia of change, why not take a stroll over to our newly redone Wiki and have a look. Gorge on the details!
https://wiki.goldeneyesource.net
5.0 Launch Event
One of our goals with 5.0 was to put considerable effort into maintaining a steady playerbase so that people can always find others to play with. One of many approaches we are taking to achieve this is by hosting community events and offering exclusive cosmetic skins as rewards to players that participate.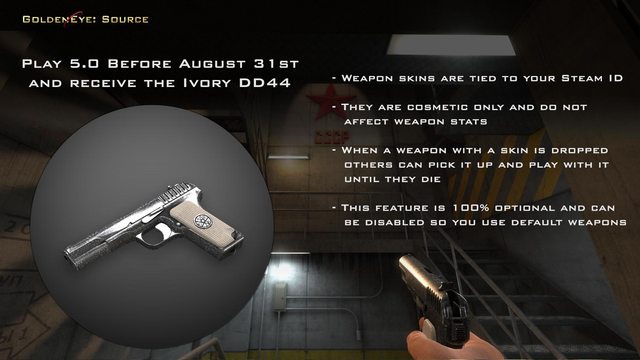 For 5.0's release we're offering an exclusive cosmetic weapon skin, the Ivory DD44.
Bunker
Bunker is another map that has been in production for many, many years and passed between developers but never quite made it to a releasable state. Finally this hallmark map of the original game is now finished thanks to the efforts of Luchador.
"Bunker was a map that seemed to be in perpetual development almost since the mod was founded. Nobody seemed to be able to finish it. Finally Fourtecks stepped up and did the main control room. He paid exquisite attention to the movie to get all the details just right. Then I decided to create the rest of the map. I blocked out then refined the layout based on playtests. Made lots of custom art assets. It was with Bunker that I really started to push the limitations of the Source Engine. Indeed, content had to be cut just to get the map to run. Nevertheless, I did the best that I could under the memory restrictions and I'm still proud of the amount of detail I was able to put into the map."
-Luchador, Lead Artist
Grenade Launcher
One last thing before jumping into the mayhem, a preview of the new Grenade Launcher. Devastating at short range, just as deadly at long range in the right hands.
Caverns
Today we're featuring not one, but two maps! Caverns was another map that underwent a complete remake for 5.0 and actually very almost didn't make it because of time constraints.
Our lead artist Luchador's turn around time on this map during the wrap up stages of development was astounding and nothing is skimped on, it's one of the prettiest maps we have.
"In 2006 I made a version of Caverns for GE:S Alpha 1. It was the first map I released for GE:S and it was very rough! Ten years later, we found ourselves needing to replace the Caverns map made by another developer. I took on the challenge, along with the help of other team members, to make a new map from scratch that matched the quality of the other maps in GE:S. In a sense, things have come full circle!"
-Luchador, Lead Artist
Russian Soldier and Infantry
With the new release, we are happy to show off the new Russian Soldier and Infantry character models, created by Dr. Dean! These hardened warriors are a worthy addition to the GE:S roster and sure to represent the Russian Army in the best way possible! Russian Soldiers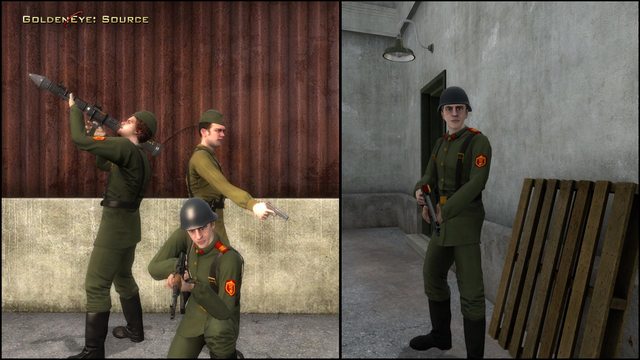 One Last Thing
From all of us at GoldenEye: Source, we'd like to thank you for all your support. This is a project made by fans, for fans. Whether you want to reminisce in some of your fondest console memories, or team up against your best friends all over again, we hope that GoldenEye: Source provides you the means to do so.
GoldenEye: Source has always been a not-for-profit modification, and we've relied on the generous support of you: our great community. If you would like to help us with mirror hosting or game servers, or want to get involved, do not hesitate to join the community and drop us a line!
https://www.goldeneyesource.net
https://www.facebook.com/GoldenEyeSource/
"When we first started work on GE:S again, I was aiming for a quick content patch to fix some long standing issues and stir up some interest in the game again. Somewhere along the way to that objective, however, I realized that there was no way this team was going to settle for anything less than the biggest release this project has seen, and I knew we could get there. After tens of thousands of man hours and many unforeseen hurdles to overcome, we did it. GE:S 5.0 is here and I could not be prouder of all the people who came together and put aside their differences to make it happen.
There is more work to be done, and will no doubt be more unseen hurdles, but with GE:S 5.0 I am confident we're starting things on the right foot. We look forward to finally playing with the community and getting their thoughts on all of our hard work.
With all of that out of the way, I'm proud to start the release of GE:S 5.0 with the same phrase I would start each of our tests with:
This is good, kill each other."
-E-S, Managing Director & Lead Programmer
Community
Reddit https://www.reddit.com/r/goldeneyesource
Discord https://discord.gg/MTwT3Ch
Facebook https://www.facebook.com/GoldenEyeSource
Youtube https://www.youtube.com/GoldenEyeSource
Twitter https://twitter.com/goldeneyesource
-Team GoldenEye: Source