GoldenEye: Source 5.0 Media Day 1
Five Days Of Media Updates
For the past two years the development team has been hard at work on the next major release of GoldenEye: Source and the time has come to give everybody a taste of what's coming this Friday, August 12th!
Over the next 5 days leading up to release we'll be giving everyone an in-depth sneak peek at what the latest installment of GoldenEye: Source has to offer, so be sure to check back each day at 4:00 PM EST!
Aztec
In each post, we'll be showcasing a specific map and giving you various other tidbits of what we've got in store with 5.0 to highlight how we're bringing even more of the classic N64 game to life in the Source engine. Today, we proudly present Aztec:
Aztec has been completely rebuilt from the ground up by our lead artist Luchador to bring it in line with the Bond movie visuals that inspire our art direction for environments whilst staying faithful to the map's style presented in the original game.
"The greatest difficulty was mixing the different aesthetics - the map has the old temple area with its jungle look and that's attached directly to a retro sci-fi area requiring completely separate, and unique art. Staying under memory limits was a challenge. The shuttle was fun, though, and the largest vehicle I've ever made."
-Luchador, Lead Artist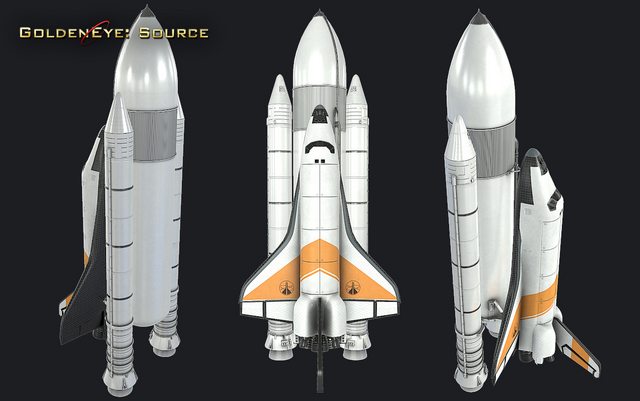 Map Overhauls Part 1
5.0 is quite simply the best GoldenEye: Source has ever been. We've been refining the entire mod from top to bottom - giving everything a much needed polish. Nothing showcases this hard work like our roster of updated levels. Since our previous release every single map in the game has been updated. With the new additions, the mod now has a total of 25 maps!
Here's a little taste of some of the updates we've made:
Mines
As well as overhauling all of the maps, a significant focus for this release was remaking the majority of our weapon models. Today we're showcasing our new mine models made by Luchador:
Call to Arms
Seeders, we have put out the installer for easy access via torrent. You can head to our client downloads page to start sharing the GE:S installer. The installer is locked so you will not be able to play the game until release. We are also looking for possible mirrors for hosting the new FULL installer for the mod. If you are able to help, please contact us at: contact@goldeneyesource.net
Community
Facebook https://www.facebook.com/GoldenEyeSource
Youtube https://www.youtube.com/GoldenEyeSource
Twitter https://twitter.com/goldeneyesource
Reddit https://www.reddit.com/r/goldeneyesource
-Team GoldenEye: Source